Mini Me Doll
Personalised Mini Me Doll Custom Photo Cushions. We all love to go beyond ourselves. Indeed, striving for the highest is a good idea. With the Mini Me Doll, you almost completely change that approach - fun and creative! Your personal mini me pillow shows you are no stranger to humor. On the contrary: mini me cushion surpasses everyday life with a pleasant smile or hearty laugh. Already by the name it is clear that it is a matter of personality.
---
Mini Me Brings Joy to Your Life
Mini Me Little Pillows are fun for everyone. Mini Little Dolls feel at home everywhere. Within your own four walls, a bedroom, living room or children's room are typical places where we quickly feel at home. They liven up any sofa landscape and can be paired with duvets, throw pillows or sleep rollers. Not only the cut, but also the filling of the Little Me Pillow is done by hand, just like the sewing.
Mini Me Doll Cushion
Mini Me Doll Cushion
Mini Me Doll Face
Mini Me Personalized Dolls
Custom Mini Me Doll
Mini Me Personalised Doll
Little Me, personalised doll, custom doll, doll with photo - Do you love yourself so much that you can't stop admiring yourself? Or would you like to surprise your girlfriend or wife with a unique gift? If so, then our Little Me Dolls are the best gift for you – and she will definitely fall in love with them. We offer different options for customization so that everyone gets what they want – a beautiful bride that matches their idea of perfect relationship or an amazing doll that is specific to their taste. Little me, as you may call her, is a doll with your photo. She is the best gift for any occasion. If you want to buy it as a Birthday Present, anniversary gift or as a token of appreciation and gratitude , little me will be loved by anyone who receives her at any stage in life.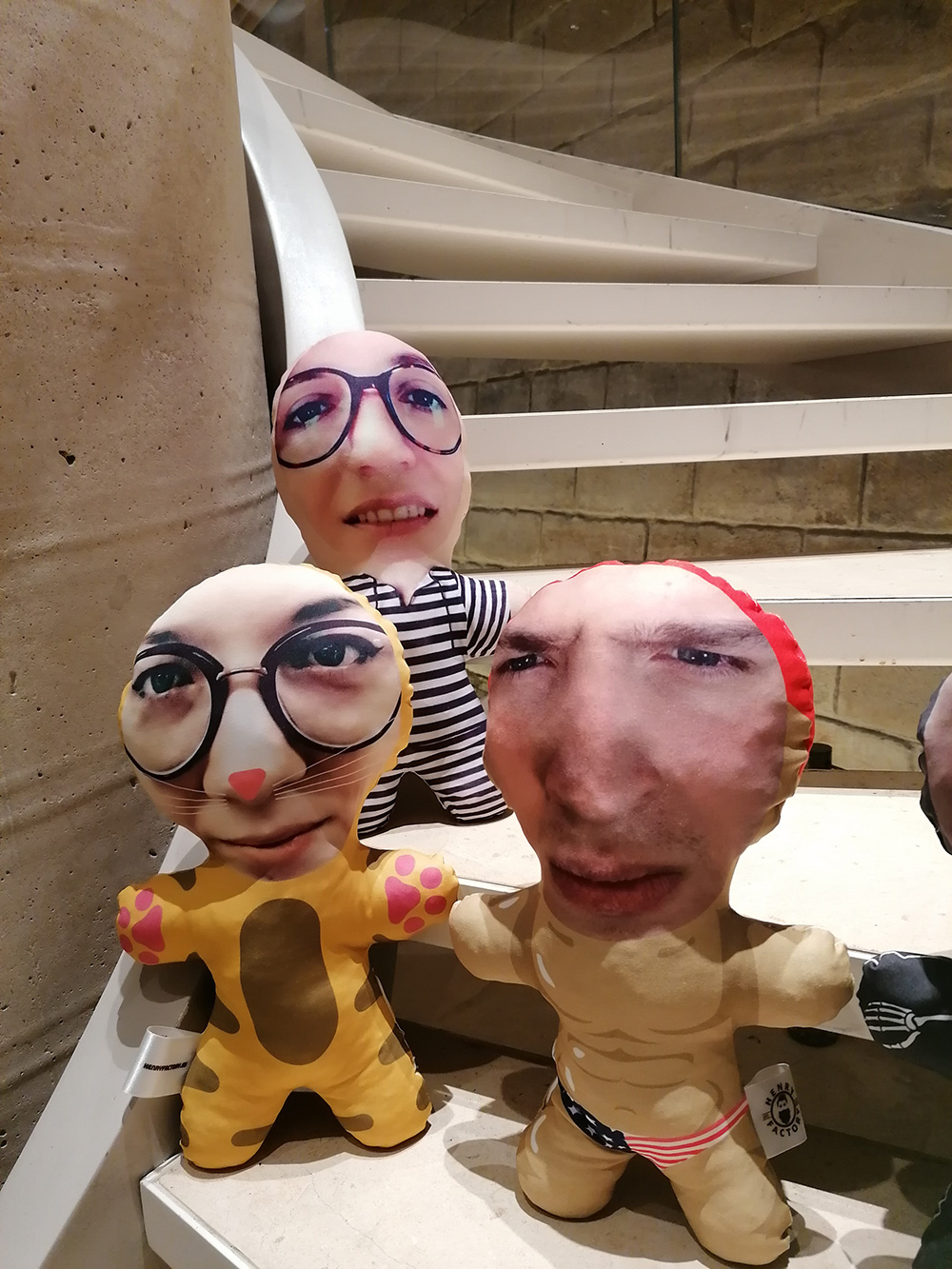 Little Me pillow
Some people just love to give gifts that you love to get. Such gifts are the ones you'll go gaga over. And so, here's one such gift for you: a cushion with an image of your own photo! You have to see this for yourself. Go ahead - it's totally stunning and will put a beaming smile on your face when you do gaze upon it. The best presents are the ones you make yourself. The Little Me pillow is very easy to make and even easier to give as a gift. Once you've made your own cushion, personalised it and received loads of compliments on it, you'll never shop for a cushion in a store again.
Have you ever dreamed of your own soft, snuggly, personalised cushion with your face on it? Designed to look just like you, these custom cushions are the perfect way to add a bit of character to your home.
Personalised doll cushion
Personalised doll cushion is an ideal gift item for your girlfriend or any other girl in your life. There are many things that you can personalise on the cushion. A personalized doll cushion with a name and photo of your child makes a great gift and is appreciated by young children and parents alike. It can be placed on the bed or on the sofa, on which your child often sits with his favorite toy.

Cushion with a photo of your child will always be in the center of attention where it will feel like a real star and enjoy what he likes most - to be near the parents! And the parents will always know that their child is not far away.
To make a personalised doll cushion simply select one of our products and add to cart. Then fill in the fields "Name" and "Photo". When placing an order please attach photos (preferably in JPG format) of your child for us to make a customised doll cushion.
Mini Me Cushion
Hello and welcome to Mini Me Gifts! We make personalised gifts and products including personalised cushions , personalised keyrings, mini me dolls and much more. Our gifts range is the perfect gift for every occasion; birthdays gifts , christenings, weddings and even just a thank you to let them know that you're thinking of them.
The gift ideas we have on our website are designed to be given as an individual gift or as a gift for multiple recipients, such as a set of mini me dolls for your bridesmaids or groomsmen! Mini me is also the perfect gift for little ones who want something unique and fun this Christmas.
Having your own personalised gift or cushion makes it so much more special than if it was bought from a high street shop. It's something that can be treasured forever and makes a great talking point when friends come around for tea!
It's never been easier to get your very own Mini Me doll keyring or cushions thanks to our website. All you need to do is choose from our wide selection of designs or upload your own photo then add the text that you'd like printed onto the item. You can even add a name, date or message to make it a truly one off gift!
Here you will find lots of mini me products, all personalised with your own messages, photos and designs. You can create your own mini me doll or cushion, or you can use our design tool to create your own unique gift for someone special!
We have over 50 different clothing options for mini me dolls and cushions, with many different messages to choose from. We also have lots of accessories like t-shirts, hats, bags and shoes for mini me dolls which you can personalise with any name or message.
Little Me Dolls
For mini me dolls we have lots of designs which you can personalise with any photo. We also have over 50 different messages for the back of the cushion covers which you can use to make it extra special.
The Mini Me doll is a personalised cushion, this makes this product unique and different to other gifts. The concept is simple, make your own little me doll. This can be used as a gift for someone special, or you can use the personalised cushion for yourself.
This product provides you with hours of fun and laughter with your friends and family. You can create your own story to go along with the character, which will always be remembered.
The Mini Me doll (personalised doll of yourself) is ideal for birthday presents , personalised gifts or just a little treat to brighten up your day.
Little Me is the perfect gift for every occasion, look through all our designs to find the right one for you or why not have one made especially for someone? Choose from our wide range of colours so you are sure to find something that suits your taste. If you want something extra special why not add an image of your face onto the doll? This will turn it into a true piece of art that you will treasure forever. You can even have one made in the image of someone close to you so they know how much you care.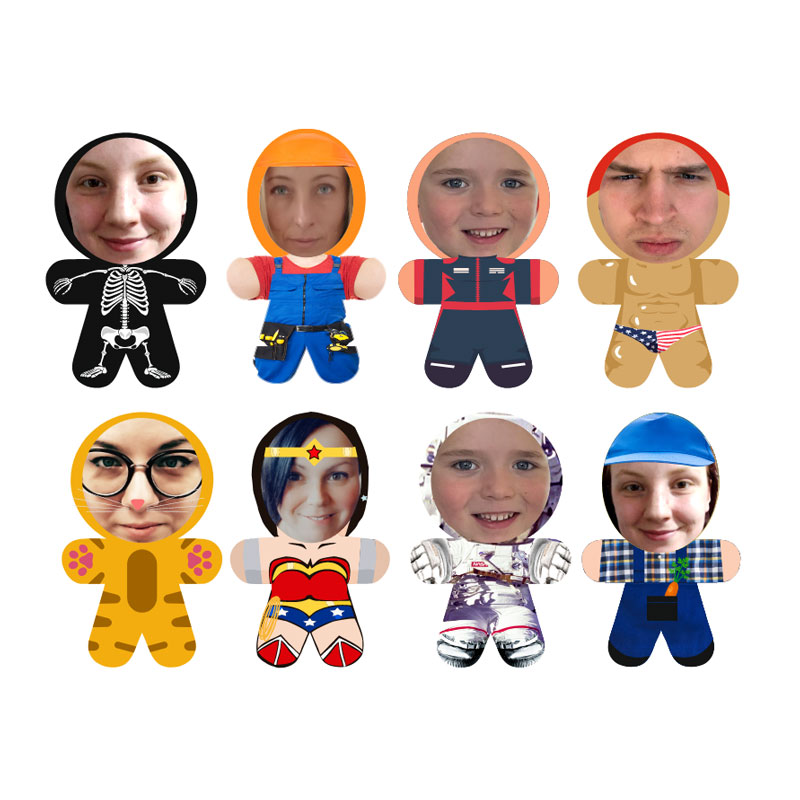 Mini Me Doll
Mini Me is a personalised cushion made from the image of your face! You can choose from 10 different colours to match your space or decor.
Personalise your Mini Me with your name, the date of an event, perhaps a holiday destination you are visiting, even a small message. Each Mini Me is individually handcrafted and can be personalised to your exact requirements. Mini Me is a part of our very popular and successful personalised gift range, and we are delighted to be able to offer this particular gift on the internet for the first time.
Mini Me is a fully customisable gift that allows you to create your own version of the Mini Me doll! Choose from any of our soft toys and then add your own face, hair and clothing.
Mini Me makes a great gift for friends, family, colleagues - or even an ideal gift for someone you have just started dating! With so many designs available it's not difficult to find one that's perfect for you.
The Mini Me design process couldn't be easier. Simply select your favourite soft toy from our full range of toys, then use our easy to use customisation tools to create your Mini Me doll. Once you are happy with your design click 'add to basket' and checkout!