Personalised Deckchair
Free Visualization Before Production
Delivery: 7 Working Days
Shipping: UPS Standard, 9.00 €
Return policy: 14 Days
Secure PayPal Payment
Beach Personalised Deckchair (Logo Beach Chairs / Deckchair)
We give as many as 7 years of warranty for the durability of the print and cover!

Logo rinted beach chairs / deckchair
100% Made in EU
Frame - 100% Polish wood, 3,5cm
Fabric - 100% poliester, 250 g/m2
Print - Full color print CMYK (100cm x 40cm)
Seasoned wood of high quality, wide profile
FSC wood
Verified origin
High-quality product!
MQQ - 1pcs in your design
Weight - 5KG
A wooden structure made of Polish beech wood with precise polishing:
The slats have a cross-section of 3.5 cm and are connected with rivets (not screws !!), which prevents them from accidentally unscrewing during use.
Lounging wood without knots with a constant degree of humidity.
All wooden elements are rounded.
Three-stage adjustment of the backrest angle with additional protection against folding.
Personalised Beach Deck chairs
It is wonderful to have a beach chair that you can relax in and enjoy the ocean views while knowing that you are under cover of safety. This is what happens when you personalise a logo beach chair with your logo or name. It becomes an additional piece of your decor and enhances the style of your entire outdoor space. Whether you choose to sit in it on a hot summer day, or lay back on it for a beautiful sunset or stars show, you are guaranteed to look and feel stylish and fresh.
With its unique design it allows you to relax and enjoy your favourite sunbathing spot with the peace of mind that you are under a secure cover. If you want to increase the amount of time that you spend outdoors during the summer, or you want an excellent, professional promotional tool for your business then a logo beach chair is a great option.
You'll feel like you're on vacation every time you relax in this customized logo chair. With your name or logo emblazoned across the fabric, it will add an elegant touch to your outdoor space.
Custom logo beach chairs with name
Custom logo beach chairs are a beautiful way to show your name in between the elements. Whether you sit under the shade or want to enjoy some magnificent stars, you will set yourself apart from other beachgoers.
Deckchair with Company's Logo
The logo beach deckchair is a compact and cute chair is just perfect for outdoor activities. With its lightweight frame and soft upholstery, it's the ideal piece of decor to display your company's logo or name on.
Unique Furniture
A must-have for any outdoor space, a personalized logo beach chair adds interest to the entire setting. The Logo Beach Deckchair is a trendy and stylish chair designed to fit perfectly in your outdoor space. What's more, it comes with the option of logo printing, allowing you to truly personalize this piece of furniture.
Logo Beach is a Lifestyle
We design and handcraft every single one of our products to ensure that we leave our mark on them as well as the people around us. With our simple and functional designs, we want our customers to feel beautiful when they use them and to always look their best. That's why we've come up with a few reasons why you should choose a logo beach deckchair over the rest.
We've got a stellar range of beach style deck chairs to suit both theme and budget. Choose from modern beach themed lounge chairs, traditional beach lounge chairs, armless chairs or recliner chairs. Each style comes in a personalised colour and logo design and is available in a variety of sizes so you can choose the one that will best fits your needs. Be sure to check out the online shop for updated product images and new product launches.
Extra comfortable deckchairs
Logo Beach Deckchair !!! Extra comfortable deckchairs - whether by the seaside or simply in the garden, your logo or personal photo are applied to the chair quickly, cleanly and professionally. The company Henry Factory offers different models of deckchairs with your logo and photo on it.
These fantastic custom deckchairs are the perfect addition to any Garden Party/Graduation.
We are the exciting new range of generic beach deckchairs.
Our basic design can be customised with your own logo and colours to create a striking outdoor advertising presence.
Add your own special moments to a summer day with our customised beach deckchairs.

Customised Deckchair
This is our new range of Customised Deckchairs. Made of high quality materials, they are stylish, durable and provide high levels of comfort - just what the doctor ordered! Our range of Customised Deckchairs are perfect for giving your garden that little bit extra. The wide selection of covers, frames and cushions will give your deckyear a new lease of life - all without breaking the bank! Customised deckchairs, Everyone likes to sit in the shade but there are never enough deckchairs. When you book your resort or hotel we will make sure that you have a few extra deckchairs on the beach or at the pool for days when it is just too hot to spend time in the sun.
Personalised Deckchairs
Personalised deckchairs are perfect for observing the passing ships and marine life. Our custom deckchairs are made from premium materials & polished timber, available in different shapes & sizes, making them a unique addition to your garden. Our Personalised deckchairs will fancy up your wedding, party, or holiday. For residents of Germany, we offer the production of liegestuhl holz with fast delivery. Our high quality fabric and construction makes personalised chair our outdoor arm chairs one of a kind. These fantastic deck chairs can be personalised with your own text, images and graphic designs. The simple push button mechanism allows you to easily adjust the back and seat of the chair, making it suit the individual needs of each occupier.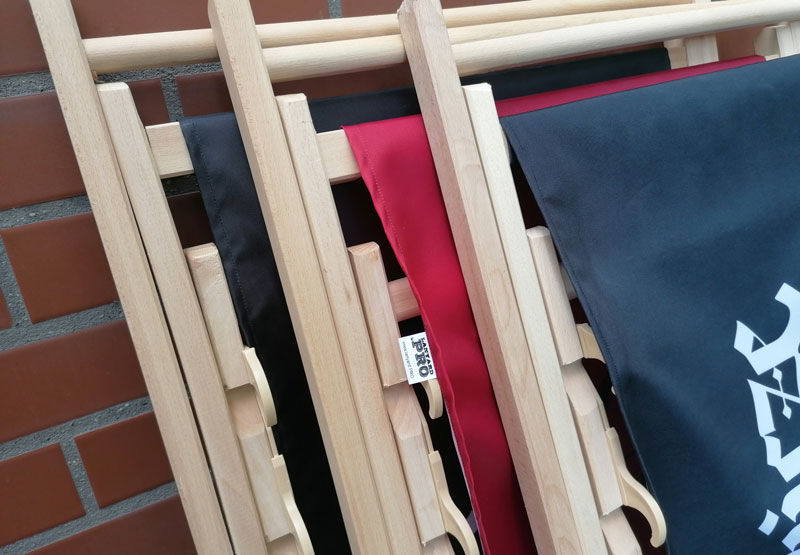 Bespoke Deck Chairs
Designed to do more than simply look good, Bespoke Deck Chairs from Henry Factory (Deckchair Factory) are built to the highest standards, using only the finest materials and expert techniques. Their superior finish means that they look great out on show, or kept away in storage. This ensures that you get a beautiful, well-crafted chair that's built for years of enjoyable use. A perfect blend of function and form, you already know the classic deck chair is a statement piece that will never go out of style. Available in premium fabrics and custom tailored, our designer deck chairs will be your home away from home on the sand or by the pool.
Deckchair Factory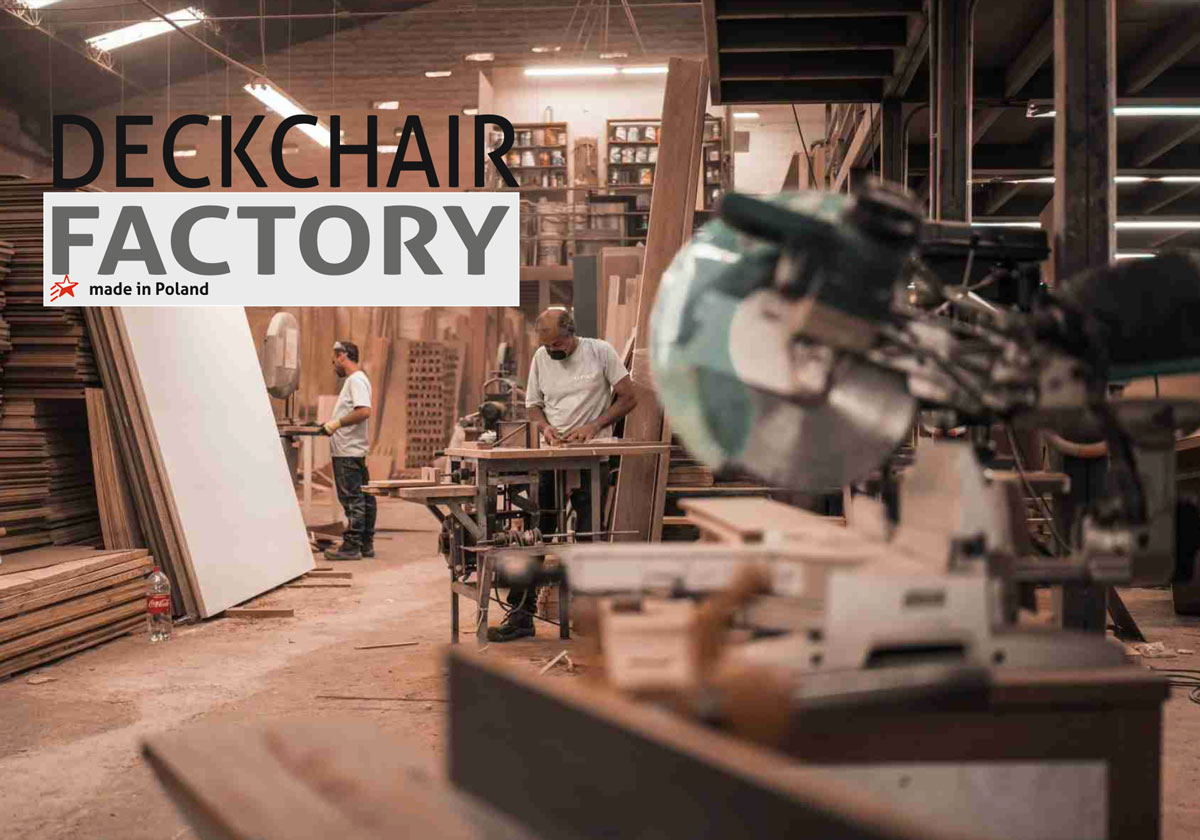 Custom Print Deckchair
Bold and beautiful Custom Print Deckchairs in a variety of colour combinations to choose from, our deckchairs are printed with UV resistant inks to ensure your design stays as bold and beautiful as the day you bought it. The canvas can be fully removed and washed at 40c, so you don't have to worry about those stains. When you combine a premium custom printed deckchair with our range of stylish outdoor fabrics, the result is guaranteed to WOW! It's a perfect combination which will get you noticed.
Personalized Embroidered Beach Chairs
We offer Personalized Embroidered Beach Chairs that allow you to claim your spot on the sand with a customized beach chair. Each chair is available in a variety of colors and fonts to complement your party theme, and they are made from durable nylon so you can enjoy them for years to come. We also have matching personalized cooler chairs and hats so everyone can sit together or separate depending on what suits your needs best! Our personalized embroidered picture beach chairs are a perfect gift idea. Choose from our huge selection of beach chair colors and personalize to create the perfect picnic chairs that will last for years to come. Our high quality embroidery is guaranteed to not fade or wash off.
Personalised Wooden Lounger Chair
Personalised Wooden Lounger Chair - Beautiful item for gift or personal use. Unique and Personalised! Perfect Gift for Any Occasion! Beautiful item for gift or personal use. Unique and Personalised! Perfect Gift for Any Occasion! Available in a variety of different wood colours. Personalised Wooden Lounger Chair is a unique gift that your friends will always remember you by. The name, birthday message, phone number or inside joke of your choice can be engraved on the wood, to give the gift even more character and make it something uniquely their own.
Personalised Camping Chairs
Our personalised camping chairs will be the talk of the camp site and great to take to the festival for watching your favourite band. Personalise on two sides with any name or message up for a very special personalized birthday or Christmas gift! These personalised camping chairs' are ideal for taking to festivals or the beach. Stylish and comfortable, they also fold away for easy transportation.
Seaside Deck Chairs
As seen on tv seaside deck chairs is a great way to unwind while taking it easy on the beach or in the backyard. This high-quality package is ideal for your one-day or week-long trip. Italy is my favorite place to travel, especially the Amalfi Coast. The beautiful landscape and awesome culture makes it a special place to visit. It's no wonder why some of our customers say their seaside deck chairs make them feel as if they're there too.
Monogrammed Beach Chairs
Henry Factory offers high quality monogrammed beach chairs and monogrammed umbrellas for your beach or garden. All of our personalized umbrellas, pictures and decorations are weather resistant, long lasting, and will create memories that last a lifetime. We also offer a variety of personalized umbrella stands along with sand viewers to leave your mark in the sand forever. The monogrammed beach chairs have the custom decoration of your choice printed right on it. Give your monogrammed beach chair as a gift or get one for yourself. Whatever the occasion, these personalized folding chairs make a statement.
Customized Beach Chairs with Logo Designs
Creating an unforgettable experience for your sponsors is easy with customized beach chairs with logo designs. These comfortable beach chairs have a roomy satin-lined pouch to keep valuables safe and the umbrella is designed to shade you from the sun. To make your logo designs stand out at events, use imprinted coozies that help keep cold drinks at the perfect temperature.
Personalised Beach Chairs: Custom Wooden Beach Chairs
Personalised beach chairs have been a big hit with customers, with more and more people wanting their chairs presented in the most unique ways. It seems that nobody wants the regular old white chair. Yes, you might be able to get away with a plain one, but why bother? These chairs are only available for a limited time so if you want one now then you better act quick. What you decide to get engraved on your chair may affect how it feels when you sit in it for the first time. The more personal and unique your chair the more beautiful it will feel when displayed.
Personalised Chairs
Your chair might be more than just a piece of furniture. It could be the connecting link between you and your surroundings. The chair you choose should reflect your personality, your style, the time of year and even the occasion. That is why Henry Factory Design came up with personalised chairs.
Deck Chair Logo
The back of your deck chair may contain a logo that will help get people to know you. When you make a deal with someone or post on an internet forum, you want a thoughtful, well-thought out offer and response. A logo makes an instant connection and makes people want to read more about you. People who put thought into creating high quality logo's find that they sell more products.
Hotel Deckchairs
When you want to enjoy an extended stay in a city, you need a specially designed chair that is adjustable, durable and comfortable. Do you want a comfortable chair that will get you from your bed in the morning to your place in the evening? If so, you should consider hotel chair vacation packages.
Have you wondered about custom decks chairs?
Many people have their own ideas about what type of chair they would like but don't know where to start looking for a great chair. Custom deck chairs are constructed by a skilled woodworker and select sample designs are provided so you can see what your final product will look like before ordering.
Deck Chair Personalised Handmade for Home and Garden
Customise your own deck chair personalised to look like a public sculpture or a specific piece of furniture from your living room. Increase your public visibility and enhance your comfort with a unique room remodel. Add a luxurious new look to your dining room or bedroom with built-in crown molding ornaments. Discover how to personalise a deck chair. Personalised garden chairs. Personalised garden furniture is an easy way to give your home a unique feel and fit with your personality. You can pick the design that suits you and even the style of chair.
Fancy relaxing in your own deck chairs?
Fabrics to suit your style
Adding a logo
Make your deck chair special
Notice the existing designs
Use your creativity to design your very own deck furniture!
Make the most of your outdoor spaces
Create a personalised area
Personalised Deckchair Reviews (21)
Tags: Personalised Deck Chairs